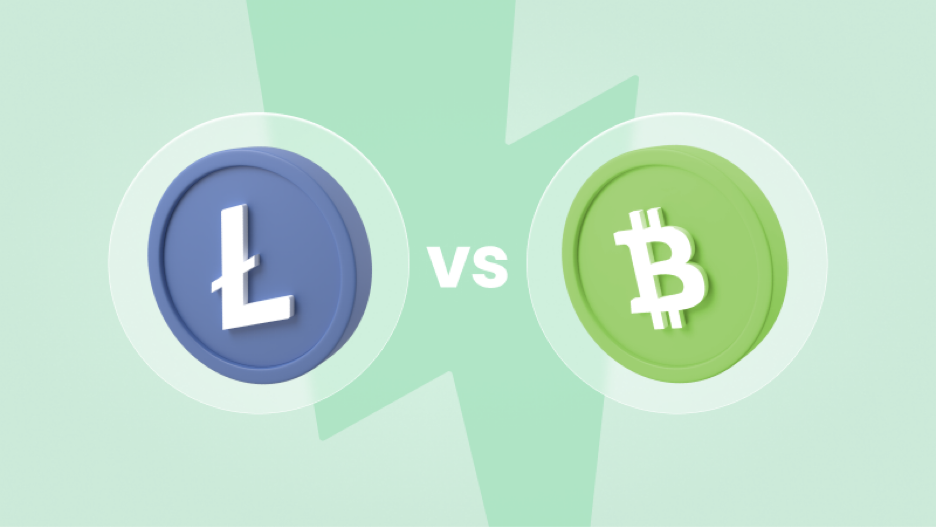 Litecoin ($LTC) Explained
Litecoin ($LTC) is Charlie Lee's, a former Google employee, brainchild. It's a P2P that allows quick, almost zero-cost payments around the globe.
The platform is decentralized and open source, so no authorities are in the middle. $LTC was a Bitcoin fork, but with some differences. Lee aimed to create a similar network but with faster payments. That ended with the block having a generation time for Litecoin four times faster. It takes 2.5 minutes instead of 10 minutes per block. Litecoin uses a proof-of-work (PoW) algorithm to process transactions and mint new coins. However, it implemented the more efficient Scrypt hashing algorithm, which isn't that energy-consuming.
Compared to Bitcoin, however, Litecoin's mining algorithm makes mining more energy-efficient and accessible to miners, which makes it more eco-friendly.
Litecoin is scalable so that it can process 56 transactions per second, while Bitcoin can manage 7 transactions per second and Ethereum 15. 
Pros:
Transactions are way faster than Bitcoin
The platform has extremely low fees
Has proven itself to be reliable and persistent
It's one of the top 20 cryptos 
$LTC is easy to trade, as it's listed almost on all exchanges
Cons:
it was abandoned by its creator
always the 2nd (or even the 3rd) after Bitcoin and Ethereum
halving isn't that profitable as on the Bitcoin network

Create litecoin wallet address to start storing, swapping, and receiving your $LTC in a quick and simple way.
Bitcoin Cash ($BCH) Explained
Bitcoin Cash ($BCH) is built on the same blockchain as Bitcoin. The coin was launched in 2017 through a "hard fork" of the Bitcoin blockchain.
Some Bitcoin blockchain participants suggested modify the rules and enable Bitcoin to process a bigger transactions volume. The majority of nodes voted against, which led to the hard fork, creating two blockchain paths with one origin: Bitcoin and Bitcoin Cash.
BCH applied a larger block size of 8 MB to boost the verification process, with a flexiable level of difficulty to make sure the chain's survival and transaction verification speed, no matter how many miners supporting it.
Pros: 
lower on-chain transaction costs
it's more scalable
more popular in terms of trading volume and market cap compared to Bitcoin
highly accessible, as it's listed on all big crypto markets 
Cons:
low adoption level
less profitable than classical mining 
it's often mixed up with $BTC that brings some confusion
lower liquidity level than $BTC
Create Bitcoin Cash address to start storing, swapping, and receiving your $BCH in a quick and simple way.
Where to Store $LTC and $BCH?
A crypto wallet is the best option for storing your cryptos. One rather crucial thing is that your wallet doesn't keep your crypto-assets. It's designed to have the passkeys which you need for accessing your crypto funds.
Crypto wallets can be hot or cold. The first option stands for software that runs on your mobile device or computer, and the second one is hardware recalling a flash drive. A hot wallet needs a Net connection making it convenient and easy to use. A cold wallet is not connected to the internet, so it is considered to be more secure but less convenient.
Simplehold.io offers you a way of managing your crypto assets without compromising security and convenience. Give it a try and see for yourself!