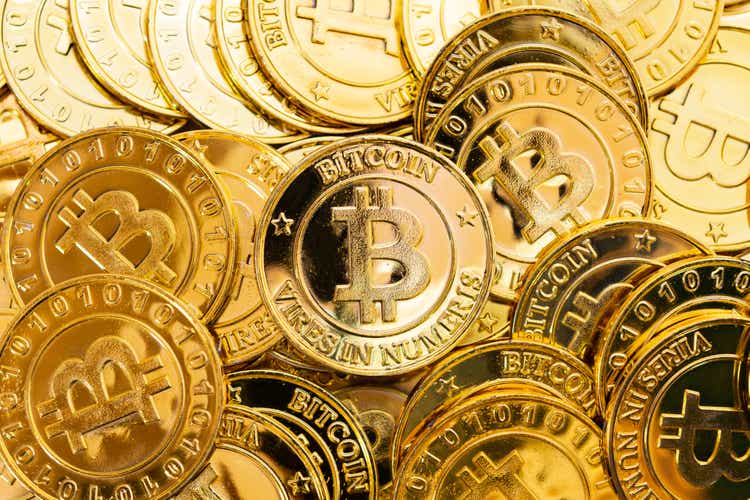 Bitcoin (BTC-USD) edged higher in Tuesday midafternoon trading and is on track to close out a vigorous first month of 2023 as traders prepare for the Federal Reserve's interest-rate decision due on Wednesday.
The world's largest digital token (BTC-USD) perked up 1.9% to $23.12K at 3:17 p.m. ET and is set to finish the month with an over 40% surge. Similarly, ethereum (ETH-USD) gained 2.6% to $1.59K, poised to end the month with a nearly 35% climb. That helped push up the global crypto market cap by 1.8% to $1.05T, according to CoinMarketCap data.
The Federal Reserve is widely expected to shift down its rate increases to the standard 25-basis-point increment as the U.S. central bank's tightening that's been in place since March 2022 starts to work through the economy and rein in inflation that was initially deemed as "transitory." That would lift the federal funds target range to 4.50%-4.75%.
Inflation pressures, though, are still too elevated for the Fed's liking, on top of a still-tight labor market and easing financial conditions. That implies Fed policymakers could push back against market expectations for rate cuts later in 2023. And if the Fed were to defy the consensus and implement a larger-than-expected rate hike, it would potentially bode poorly for crypto prices and other riskier asset classes.
Seeking Alpha contributor Colorado Wealth Management Fund suggested that "continuing to push rates higher would create a high probability of overreacting," given the lag that the impact of monetary policy has on the real economy.
Unsurprisingly, crypto-related stocks also changed hands in a sea of green. CleanSpark (CLSK) +8.4%, Hut 8 Mining (HUT) +8.2%, HIVE Blockchain Technologies (HIVE) +6.5%, Coinbase Global (COIN) +5.5% and Silvergate Capital (SI) +5% were among the biggest winners.
The upswings across crypto were accompanied by a risk-on day for the broader stock market, with all three major indices posting gains.
Elsewhere in the cryptoverse, Tesla (TSLA), which originally invested $1.5B in bitcoin (BTC-USD) in Q1 of 2021, earlier recorded a $204M bitcoin impairment loss in 2022.