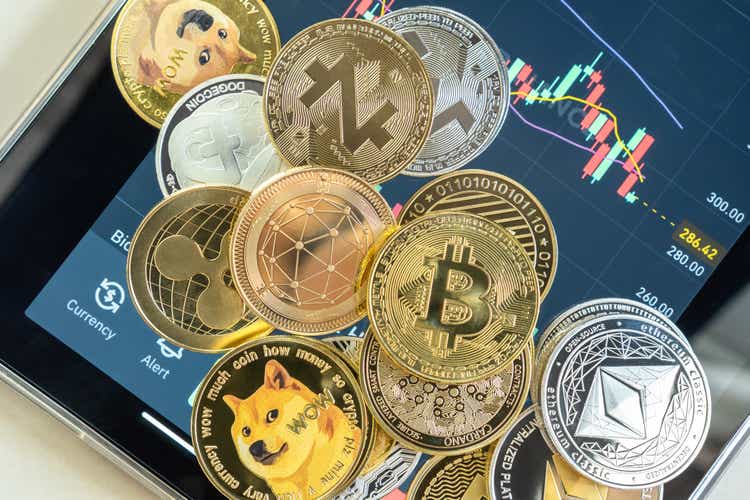 Bitcoin (BTC-USD), ethereum (ETH-USD) and other cryptocurrencies pared a small portion of their year-to-date gains in Monday afternoon trading as market participants brace for a week packed with corporate earnings as well as monetary-policy decisions from a number of central banks, including the Fed.
The global crypto market cap slid alongside the stock market, falling 4.6% to $1.03T as of shortly before 3:51 p.m. ET, according to CoinMarketCap data. After reaching nearly $24K in the prior session, bitcoin (BTC-USD) retreated 4.3% to $22.71K, and ether (ETH-USD) dropped 5.1% to $1.55K.
Nonetheless, market sentiment appears to be leaning more bullish with the tokens still up 36.2% and 27.6%, respectively, since the start of 2023. Time will tell.
The three biggest losers among cryptos in the last 24 hours included lido DAO (LDO-USD) -11.7%, flow (FLOW-USD) -11.8% and near (NEAR-USD) -11.2%, CoinMarketCap data showed. On the flip side, dYdX (DYDX-USD) +7.1%, mina (MINA-USD) +4.2% and gatetoken +0.9% were the three biggest winners.
The broad crypto rally that started in 2023 is nothing more than a "bull trap that will catch FOMO investors to invest too early," said Seeking Alpha contributor Serge d'Adesky. For the longer term, though, he expects bitcoin (BTC-USD), in particular, to hit $102K by mid-summer 2024.
Crypto-exposed stocks also took a hit intraday, with some of the biggest decliners featuring: Marathon Digital (MARA) -10.5%, Coinbase Global (COIN) -7.1%, Greenidge Generation (GREE) -7.8% and MGT Capital Investments (OTCQB:MGTI) -15.3%.
Going forward, a recent CoinShares survey showed that ether (ETH-USD) is expected to shine the most among cryptos, including bitcoin (BTC-USD).