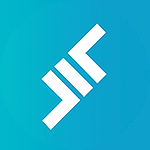 Aave Protocol V3 has been deployed on the Ethereum mainnet on January 27, after testing on Polygon, Avalanche, Arbitrum and Optimism. 
Aave V3 includes a gas optimization algorithm that the developers say will reduce gas fees by 20% to 25%. 
Experts have predicted a massive bullish breakout in AAVE after the token broke out of its multi-month downtrend. 
Aave, an Ethereum-based protocol that offers automated crypto loans to users, recently launched its V3 version on the mainnet. Aave V3 is now live on Ethereum, offering the community an improved version of capital efficiency and liquidity while reducing gas costs. 
The protocol's native token AAVE is on track to witness a bullish break according to technical experts. 
Also read: Here's why Ethereum-killer Cardano whales are shedding their ADA holdings
What is Aave V3: Features and updates since release
AAVE V3 is the third version of the decentralized open-source protocol built on the Ethereum blockchain. The latest version of the crypto loan provider scales its DeFi platform and offers staking, flash loans and improved liquidity at lower gas fees. 
The deployment of Aave on Ethereum came almost a year after the third iteration of the lending protocol. Aave V3 was launched across six networks, including Polygon, Avalanche, Arbitrum, and Optimism, in March 2022. 
The most recent version of Aave boasts the High-Efficiency Mode, also called "E-Mode." With Aave's E-mode users can borrow more by using collateral that is correlated to the asset they are depositing and borrowing, thereby improving capital efficiency.
The V3 upgrade's gas optimization functions intend to reduce gas costs on the protocol by 25%. Since Aave V3's launch, the Total Value Locked (TVL) in the latest version is $531.64 million. 
AAVE V3 TVL from DeFiLlama
Of Aave protocol's three deployments, V2 has the highest TVL at $4.12 billion. Aave V2's TVL is up 25% since the beginning of 2023. V3 TVL is up 20.81% since January 1. 
The new version of the DeFi protocol offers isolation mode as well, in addition to the high efficiency mode. New assets can be listed as isolated in Aave protocol V3. Borrowers using an isolated collateral can only borrow stablecoins that have been permitted by the Aave governance to be borrowable in isolation mode. Despite the new features, V2 continues to lead the way, experts identified what the V3 version needs to overtake the older ones. 
David E Silverman, Venture Partner at 3SE Holdings considers the recent version's rollout a slow one. Silverman believes that once the top 15 borrowed and supplied assets on older versions are listed, the two versions would be near parity. As of January 30, five out of 15 top borrowed assets and seven of the top 15 supplied assets have been listed on Aave V3. 
Aave V3 launched two days ago on Ethereum, attracting $23.7M in deposits.

The new version offers Isolation and High Efficiency modes as well as lower gas fees.

But V2 still holds the lead with a whopping $5.47B!

So, when will V3 overtake the V2? pic.twitter.com/nqAq1fcT06

— Ignas | DeFi Research (@DefiIgnas) January 29, 2023
Aave bulls prepare for massive breakout in the token
@lidcoin, a crypto analyst and expert, notes that Aave is currently on the verge of a massive bullish breakout. Based on the chart below, Aave price has broken out of its multi-month downtrend that started in June 2022, experts believe a bullish breakout is likely.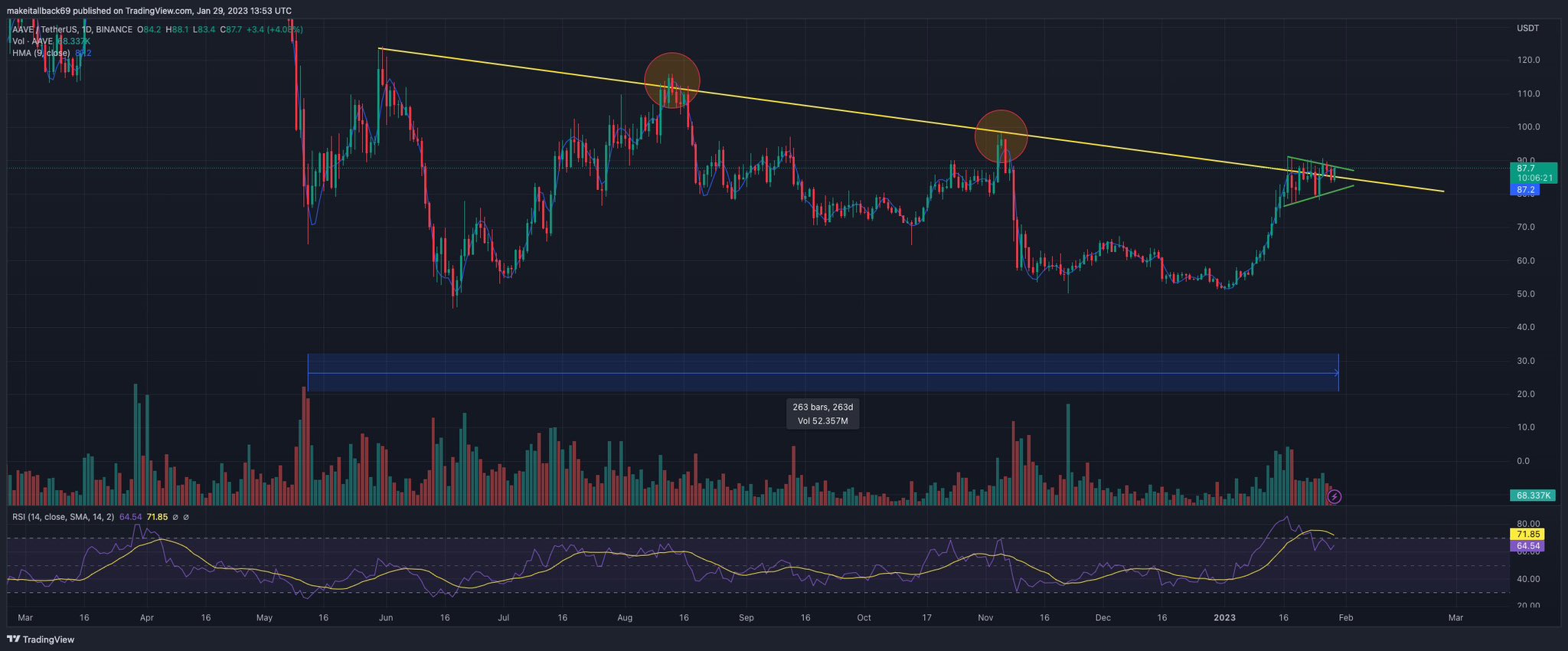 AAVE/USDT 1D price chart
Aave price has hit the trendline two times in the past, however the price continued to decline. The most recent breakout past the trendline occurred on January 16. Relative Strength Index (RSI) is at 64.54, below the overbought level. This implies there is still room for a price rally in AAVE.